News

/

Outstanding year for NZ's Defence sector
Outstanding year for NZ's Defence sector
by ANZDD on 15-Dec-2016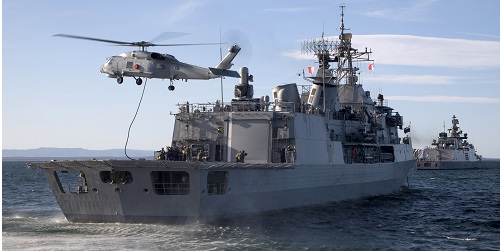 Defence Minister Gerry Brownlee says 2016 has seen the New Zealand Defence Force respond to natural disasters, train Iraqi soldiers and future-proof the country's Defence industry.
"I think most of us will remember 2016 as a turbulent and extraordinary year for the world," Mr Brownlee says.
"The men and women of the New Zealand Defence Force perform essential roles in protecting New Zealanders, supporting our friends and neighbours and furthering New Zealand's interests around the globe.
"The year kicked off with devastating bushfires in Tasmania where Defence Force firefighters headed to Australia to help our closest ally.
"That was followed by our largest peacetime deployment after Cyclone Winston, which caused widespread destruction in Fiji in February.
"In April, a new battle training facility for our Special Forces, as well as Police and other government agencies, was opened.
"Then, in the middle of the year, the NZDF took part in RIMPAC, the world's largest maritime exercise.
"Around this time I released the latest Defence White Paper, mapping our unprecedented $20 billion investment plan for defence.
"Amid all this, Defence Force personnel continued to participate in deployments around the world – from the Middle East to Antarctica – to ensure we do our bit in the global community.
"This has included training 16,000 Iraqi soldiers to enable them to combat Daesh.
"This year also saw major ceremonial commitments, including the Army Band performing for Her Majesty, the Queen, at Windsor Castle and the moving Somme commemorations in France, honouring those New Zealanders who fought, and fell, in the Battle of the Somme in 1916.
"The Navy also celebrated its 75th anniversary with a year-long series of activities to mark the occasion.
"This culminated in November with the International Naval Review in Auckland where the Navy hosted a large number of foreign warships – including the USS Sampson – the first US Navy ship to visit New Zealand in over 30 years.
"In a striking show of comradeship, three ships – the Sampson, the Vancouver from Canada and the Darwin from Australia – sailed to Kaikoura to join the New Zealand Defence Force response and the HMNZS Canterbury.
"It was a year which, once again, saw our people at their very best.
"As Minister of Defence, I want to thank them, on behalf of all New Zealanders, for their service and sacrifice," Mr Brownlee says.
Source: Beehive
Comments
LEAVE YOUR COMMENT