News

/

Hanwha Defense unveils prototype of AS21 Redback IFV
Hanwha Defense unveils prototype of AS21 Redback IFV
by ANZDD on 18-Oct-2019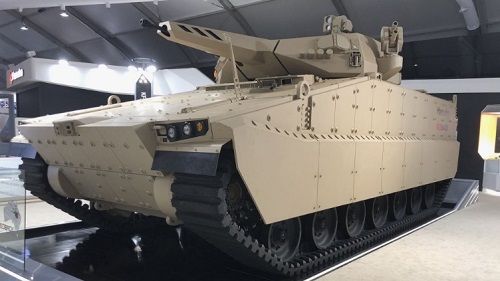 South Korean company Hanwha Defense unveiled a prototype of its AS21 Redback infantry fighting vehicle (IFV) at the Seoul International Aerospace & Defense Exhibition 2019 (ADEX 2019) taking place from 15 to 20 October.
The AS21 Redback, which along with Rheinmetall Defence's Lynx KF41 IFV has been shortlisted to compete for the AUD10-15 billion (USD6.9-10.3 billion) Project Land 400 Phase 3 to provide the Australian Army with up to 450 modern IFVs and 17 manoeuvre support vehicles, was unveiled in an ceremony held on 15 October that was attended by South Korean Prime Minister Lee Nak-yeon and Defence Minister Jeong Kyeong-doo, among others.
The AS21 Redback weighs 42 tons, can reach speeds of up to 65 km/h, has a maximum range of 520 km, a crew of three and can carry up to eight additional troops, according to Hanwha Defense.
The platform is a heavily upgraded version of the K21 IFV, which has been in service with the Republic of Korea Army since 2009. The platform is being offered with the new T2000 two-man, 30 mm turret, which was developed by Australian company Electro Optic Systems (EOS) and will benefit from close collaboration with Israel's Elbit Systems on C4I systems integration.
Main armament options of the T2000 range from a 25 mm to a 50 mm cannon, a 7.62 or 5.56 mm co-axial machinegun, an integrated, shock-isolated pop-up launcher that can deploy a single Javelin or two Spike LR2 anti-tank missiles, and an EOS R400S Mk 2 HD remote weapon station (RWS) that can mount weapons up to and including the M230LF 30 mm lightweight cannon. An alternative RWS is the EOS R150 capable of mounting 5.56 mm to 12.7 mm machine guns. That said, the AS21 Redback prototype displayed at ADEX 2019 did not feature an RWS.
Source: Janes
Comments
LEAVE YOUR COMMENT