News

/

Australian Government invests $220 million in local munitions manufacturing for Defence
Australian Government invests $220 million in local munitions manufacturing for Defence
by ANZDD on 06-Oct-2023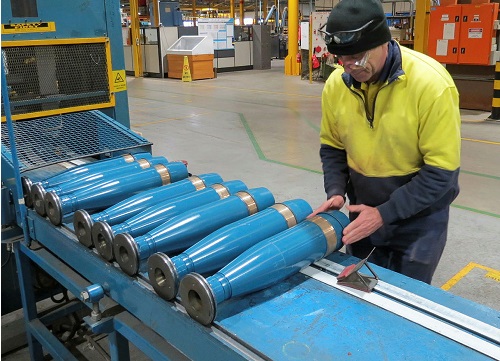 The Albanese Government is supporting local jobs and domestic manufacturing by investing $200 million in munitions production at factories in Mulwala in New South Wales and Benalla in Victoria.
The investment will significantly boost industrial capacity through:
infrastructure redevelopments at each site – ensuring they are equipped to support future production demands, such as 155mm artillery ammunition,
new explosive mixers at Mulwala, and
enhanced munition manufacturing procedures, including non-destructive testing.
Developed by Defence, the new Resonant Acoustic Mixing technology in place at Mulwala will produce a broader range of advanced munitions, faster and more safely.
This will increase the capacity for production of the BLU-111(AUS) aerial bombs, used by the Royal Australian Air Force.
This is an example of the Australian Government delivering on the priorities of the Defence Strategic Review and establishing local manufacturing of guided weapons and explosive ordnance.
Quotes attributable to Minister for Defence Industry, The Hon Pat Conroy MP:
"Improving Australia's ability to manufacture the munitions our defence force needs is not only critical to meeting the strategic challenges we face as a nation, it will also support local industry and well-paid, skilled local jobs.
"The Albanese Government's investment in these cutting-edge technologies demonstrates we are delivering on the Defence Strategic Review's recommendations to develop advanced munitions manufacturing in Australia.
"The ability to bring the BLU-111(AUS) into operational service as an Australian manufactured munition is a significant milestone in boosting Australia's defence industry manufacturing capability.
"Our investment in these capabilities will accelerate the domestic manufacture of Australia's Guided Weapons and Explosive Ordnance, such as 155mm artillery ammunition.
"The Mulwala and Benalla munition factories underpin Australia's ability to develop critical propellants, explosives and munitions for the Australian Defence Force."
Source: Defence Media
Comments
LEAVE YOUR COMMENT