Warren & Brown Technologies: Harsh environment fibre optic connectivity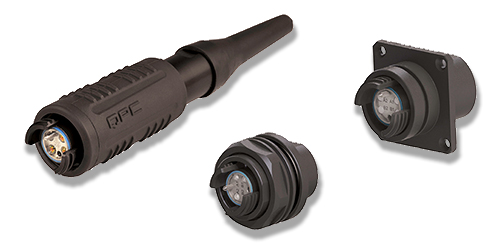 Warren & Brown Technologies (WBT) is an engineering and manufacturing company that takes pride in developing solutions for challenging environments and helping our customers set up high-quality fibre and data facilities. We offer a range of expanded beam connectors that have been designed to the latest MIL requirements and engineered for harsh environments, military and industrial applications.
Expanded beam technology uses a precision lens on one mating end to expand and collimate the optical signal, with a matching lens on the other mating end refocusing the optical beam into the core of the receiving fibre. This technology makes the connector very resistant to shock and environmental issues and minimises the effects of dust, debris and mechanical vibration.
Because the system is non-contact, there is minimal wear on the termini, allowing for thousands of mating cycles without affecting optical performance. And with a protective window, the connector is easy to clean and ideal for field use in extreme conditions.
The hermaphroditic design allows multiple cables to be directly connected without adapters (i.e. daisy chained), allowing for flexibility in system design. These connectors minimise the logistical problems of handling changing requirements within various applications.
WBT provides pre-assembled off the shelf connectors in both singlemode and multimode as well as offering fully custom designed and manufactured product solutions to meet your harsh environment requirements.
For more information visit https://wbnetworks.com.au/solutions/harsh-environments
Comments
LEAVE YOUR COMMENT