uvex x-flow – work boots for U vs the Xtremes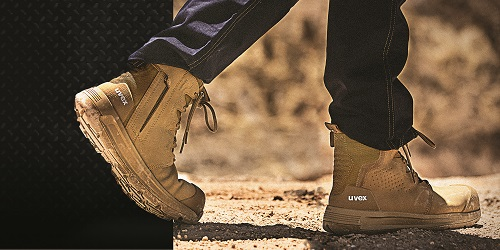 Safety equipment manufacturer uvex is seeking to combat workplace fatigue and heat stress with their biomechanically designed work boots – an innovative product cementing the company's foothold in the protective footwear market.
Created for the demanding Australian environments, the uvex x-flow work boots comprise of a leather upper and heat resistant sole that safeguard the feet.
The electrical insulating sole and metal free design make it suitable to wear at airports and ideal for workers that could have accidental contact with electricity.
The sole is engineered to perform on both smooth and rough surfaces, making it perfect for environments that place extensive stress on workers and the footwear.
Head of Product Management at uvex Dr Caleb Wegener (PhD, biomechanics) said while the work boots had a wide variety of benefits, the design team particularly wanted to address the high levels of fatigue experienced by workers.
According to the biomechanics specialist, workplace fatigue poses a significant risk in industrial settings and footwear can be a major contributor to fatigue and play an important role in addressing the issue.
"Safety footwear is primarily worn to protect staff against traumatic foot injuries, but well-designed footwear can also minimise fatigue," Dr Wegener said.
"If footwear is poorly designed, the weight, rigidity and cushioning can contribute to fatigue and oftentimes, safety footwear designs ignore this because the footwear is developed on traditional concepts of what a work boot should look like".
"At uvex, we look to produce footwear that is both incredibly safe and harmonised to how the body moves.
"After four weeks of wearing the uvex x-flow footwear workers reported a 15% reduction in perceived leg fatigue compared to the workers existing footwear". Dr Wegener said the study also found that workers perceived uvex footwear to be 18% lighter, 12% smoother ride and to be more flexible than their existing footwear which all likely contribute to the reduction in workers perceived leg fatigue.
Heat stress is also major hazard to workers in the resource sector. "In parallel to developing the uvex x-flow range to try and reduce worker fatigue we also set out to try and improve the breathability of the footwear," said Dr Wegener. "The uvex 3 x-flow zip was tested as being 15% more breathable in laboratory tests than a comparable Australian market leading style. Workers testing the footwear in the hot Queensland climate rated it to be 38% more breathable than their existing footwear," explained Dr Wegener.
The innovative and unique design of the uvex x-flow range is making it fast-become a market-leading product for Australian workers looking to improve their quality of life.
For more information, visit https://info.uvex-safety.com.au/x-flow-work-boots
Comments
LEAVE YOUR COMMENT