Pyrotek's DECIDAMP® DC30 solution for defence platforms
Pyrotek's DECIDAMP® DC30 solution for defence platforms
by ANZIDECC Directory on 22/04/2021 3:23 AM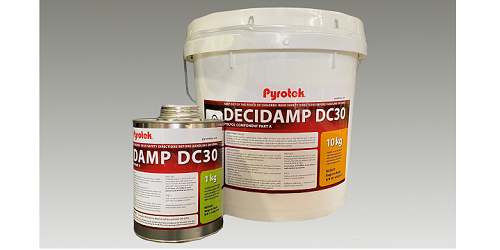 Decidamp® DC30 is a two-component polyurethane based damping paste. DC30 works best in a constrained layer configuration (sandwich system) where its excellent viscoelastic properties result in substantial reductions in structure-radiated airborne sound.
Performing well over a wide temperature range, it is perfect for use in a multitude of applications in marine environments.
Decidamp DC30 is applied to a metal, GRP or plastic counter plate which is then bonded to the surface to be treated. During curing, it will bond to both the counter plate and surface substrate, creating an excellent damping medium. Suitable where heavier constraining layers are required, by bolting in place - without adversely effecting performance.
It is corrosion resistant, highly thixotropic and can be used on horizontal and vertical surfaces without slumping.
Features:
Tested to international marine fire standards
Reduces the spread of vibration throughout the structure
Improve internal noise levels
High coverage rate, fast application & curing
Excellent adhesion to steel, aluminium, and glass composite substrates
Highly effective reducing structure borne noise
Suitable for outdoor exposure
Excellent flame resistance, self-extinguishing
Low-weight, viscoelastic damping
Cures without shrinking or cracking
Low odour
For additional information please visit pyroteknc.com
Comments
LEAVE YOUR COMMENT