Pyrotek Military Vehicle Solutions presents high temperature thermal jackets
Pyrotek Military Vehicle Solutions presents high temperature thermal jackets
by Pyrotek on 29/11/2018 7:46 AM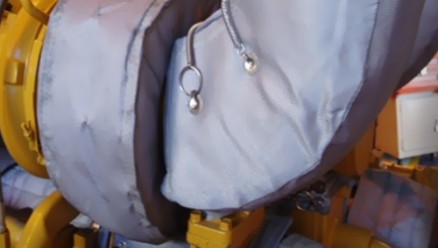 With over 30 years proven success, internationally certified products. Pyrotek offer a wealth of experience in advanced soundproofing and thermal isolation systems.
Protection ideal for extreme conditions and high temperature applications -
Simple to use, uniquely designed thermal covers are customised to mechanics of vehicles and machinery where all parts are considered and unique fitting is addressed. Vehicles fitted with the acoustic and thermal covers are quieter in the field and tackle the isolation of heat from nearby parts to improve the longevity of assets. It means occupants are protected for longer.
Multiple parts. Easily removed by one fitter – simple operations (often solutions to complex issues) and we can also supply install instruction videos on how to use – Pyrotek use high performance fabrics and materials – solutions are fabricated to cover highly complex parts with vast temperature requirements.
Robust, lightweight solutions for optimised vessel and vehicle performance we also offer custom designed systems of exhaust and mufflers on large scale projects.
Reduce fatigue caused by heat, vibration and noise.
Built to last, our ranges have pioneered the forefront of the noise control industry locally and internationally.
Comments
LEAVE YOUR COMMENT