BRUCK delivers leading innovative technical textiles to the ADF
BRUCK delivers leading innovative technical textiles to the ADF
by Bruck Textiles Pty Ltd on 20/02/2020 6:33 AM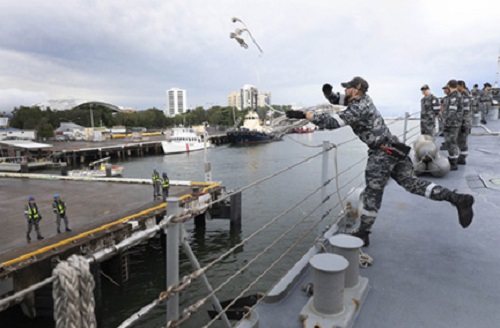 Bruck is the major supplier of combat and non-combat uniform fabrics for the Australian Defence Force. Bruck has invested in research and development to deliver innovative solutions in high performance areas including fragment protection, NIR Signature Management, waterproof and breathable wet weather outerwear, flame retardant cold weather outerwear and extreme cold weather outer and underwear.
Bruck has recently committed to developing a new inherent flame retardant fabric for combat uniforms for the Australian Army (AMCU) and the Royal Australian Navy (MMPU).
Australian Multicam Camouflage Uniform (AMCU)
The AMCU, was developed by Bruck in collaboration with the Department of Defence and DSTG (Defence Science and Technology Group). AMCU fabric is a multi-terrain capable camouflage for land close combat operations, all other land operations, field training, as well as a dress of the day uniform. The AMCU is made from a new hybrid pattern and colour palette that combines the pattern features of the Australian Multicam Pattern with the colour palette used for the Disruptive Pattern Camouflage Uniform.
Maritime Multicam Camouflage Uniform (MMPU)
MMPU, was developed exclusively for the Royal Australian Navy (RAN) and is available in MMPU Sea and MMPU Shore versions. MMPU Sea has the fire retardant and antistatic properties. The fabric maintains its FR properties after laundering and exposure to sea water.
Bruck is the only Australian weaver that manufactures DuPont™ NOMEX® fabric, proprietary PBI Gold® and PBI Matrix® outer shells and is the only PROBAN® licensee operating in the region offering various industrial and protective fabrics using aramids, para-aramids and flame retardant viscose for added comfort.
With proven design capability, integrated product development processes and sophisticated planning and warehousing systems, Bruck has become a globally recognised competitive supplier of high performance textiles.
Bruck fabrics are independently accredited to Oeko-Tex® Standard 100, giving consumers the confidence of knowing textile products tested against this criterion are guaranteed to contain no concentrations of harmful substances that are detrimental to human health.
For more information visit www.brucktextiles.com.au
Comments
LEAVE YOUR COMMENT