Axalta demonstrates its military coatings capability in partnership with Rheinmetall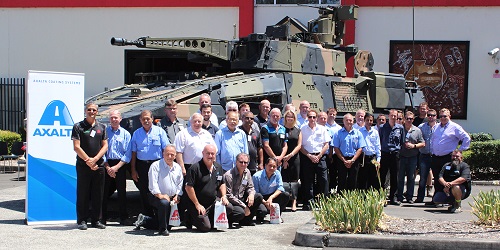 In early 2018, Axalta hosted Rheinmetall Defence Australia, to learn more about the company's plans to establish a national military vehicle industry in Australia. This event included a hands-on demonstration of their Boxer CRV.
Axalta's customers, plus a network of local suppliers were briefed on the importance of establishing strong military business partnerships in Australia and the opportunities it presents to the economy, local businesses, manufacturing and job growth.
Rheinmetall Defence Australia Managing Director, Gary Stewart congratulated Axalta on its successful partnership with Rheinmetall, in Australia and overseas. To date, Axalta has provided coatings for each of the 2,500 logistics Rheinmetall MAN trucks and 3,000 modules currently being delivered to the Australian Army.
Rheinmetall is one of the world's leading suppliers of Defence technology, including wheeled and tracked military vehicles, weapons, ammunition, simulation solutions, command and control technology, force protection systems and sensors.
For additional info visit www.axalta.com.au
Comments
LEAVE YOUR COMMENT