ATS - delivering dynamic and adaptable full spectrum live fire training capabilities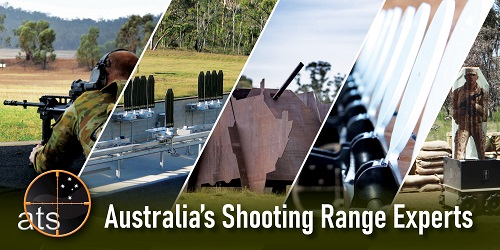 As a wholly veteran owned and operated company, Australian Target Systems (ATS) has developed a large network of supply-chain partners, both in Australia and internationally, who produce targetry systems, sub-systems and components to the standards and quality that both we and our clients demand. We design and deliver our solutions for the ADF combatant by Australians for Australians.
For the last 60 years the company approach is based on using the best live fire training equipment available in the world to develop a fully integrated capability solution that meets the exacting requirements of the end user. The solutions are proven, dynamic and adaptable to evolving scenarios that ensure the relevance of the training outcome the life delivered solution. This is achieved by developing a complete understanding of the live fire training objectives first, to ensure the intimate relationship between the marksman and the target forms the core foundation of the range and targetry design process.
The design process itself aims to enable a training capability that replicates operational conditions as realistically as possible with challenging scenarios. Targetry, Targets, Range Management Systems and Training Support Equipment (TSE) are integrated as a system designed to actively condition physical and cognitive responses under pressure, providing immediate feedback on performance as an outcome of detailed analysis of the training need.
From the Training Needs Analysis (TNA) ATS employs a disciplined Systems development and approach to the delivery of Training Capability Outcomes for the customer. The capability outcome is achieved through delivery and acceptance testing with a professional and experienced team, then maintained and operated for the life of the capability solution for the ADF Combatant.
The outcome of this approach is demonstrated through the planning to deliver Combat Marksman Ranges (CMR) incorporating the required Small Team Integrated Combat Training System (STICS) requirements to produce a live fire range that meets the need of the modern combatant. Incorporation of active zones on the live fire range enables the combatant to be trained 'in Depth' for operational scenarios that represent multi-dimensional threats reflective of the modern land combat environment. These scenarios are designed, integrated and controlled by Advanced Range Operating Software (AROS) that enables complete control and assessment of the nested live fire scenarios on these ranges to support training of a resilient, safe and lethal modern ADF combatant.
For more information visit https://www.atspl.com.au or https://vimeo.com/420923128
Comments
LEAVE YOUR COMMENT