Advanced Navigation's Boreas D90 delivers ultra-accurate assured PNT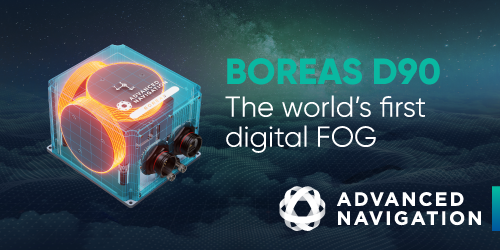 The Boreas D90 is a strategic-grade INS that delivers assured PNT with its ability to rapidly acquire and then maintain ultra-accurate heading and orientation in any environment.
The Boreas D90 combines proven, world-first, closed-loop Digital Fibre Optic Gyroscope (DFOG) with accelerometer technologies and a dual antenna RTK GNSS receiver*. These are coupled in a unique AI-driven sensor fusion algorithm that outperforms traditional Kalman filters to provide ultra-accurate and reliable navigation.
The patented DFOG technology, developed over 25 years with two research institutions, provides breakthrough capabilities by combining specially designed optical coils with unique advanced spread spectrum digital modulation techniques. This delivers increased accuracy while also reducing size, weight and power requirements.
Boreas D90
Accuracy and stability

0.01 ° seclat heading (without GNSS or magnetometers)
0.005 o roll and pitch
0.001 °/hr bias instability (gyroscope)
0.006 ° heading (dual GNSS, 1m separation)
RAIM technology
1000 Hz output rate

North-seeking gyrocompass

2 minutes (coarse)
10 minutes (fine, typical)
Effective in static and dynamic conditions and at high latitudes
No GNSS or magnetometer input required
Rugged reliability

70,000 hrs MTBF
IP67 ingress protection
Designed and tested to relevant MIL standards
Integrated health monitoring and instability prevention

Multi Protocol Support

Ethernet, CAN, RS232, RS422 and GPIOs
NMEA, CANopen, NTP, PTP and proprietary protocols
Full user access to all internal functions and data

Internal storage

Up to 1 year of data logging

SWaP (size, weight and power)

140 x 160 x 116 mm (w x d x h)
2.5 kg
10 W (without GNSS), 12 W (with GNSS)

ITAR free
For more information on the Boreas D Series INS solutions, please visit https://www.advancednavigation.com/inertial-navigation-systems/fog-gnss-ins/boreas?utm_source=anzdefencedirectory&utm_medium=online-ads&utm_campaign=23-24-FOG-ongoing
Advanced Navigation also offers the Boreas A Series. These are Digital FOG IMU/AHRS solutions for applications that do not require an internal GNSS receiver. For more details, please visit https://www.advancednavigation.com/solutions?utm_source=anzdefencedirectory&utm_medium=online-ads&utm_campaign=23-24-FOG-ongoing#FOG-IMU/AHRS
Comments
LEAVE YOUR COMMENT