ADA (Australian Defence Apparel) launches digital capability showcase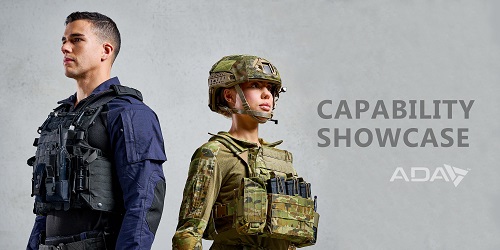 ADA's capability showcase highlights a complete suite of the most innovative and human-centred apparel systems.
Explore the online showcase further to view the collection ADA has released across Defence, Law Enforcement, Healthcare and Fire & Rescue.
The 160-page document covers a range of next-generation uniforms, body armour and load carriage concepts through to ADA's capability in total apparel management programs.
The range also demonstrates the strength of local capability within Australia with ADA's uniform manufacturing facility in Bendigo.
The capability showcase unveils the breakthrough in load carriage ergonomics, resulting in a future where crucial challenges faced by personnel are addressed, injuries minimised, unit agility maximised, and performance optimised by the solutions built to conform from 24–120-hour operations.
In addition, the creations will comprise of the first-ever female fit soldier combat ensemble engineered and body-mapped to work with the female-specific form.
View our product showcase here

A complete solution in uniform management:
FROM DESIGN TO DISTRIBUTION
ADA can move from scalable prototyping to mass production under one roof. ADA's head office located in Thomastown, Victoria, houses design specialists, research teams and machinists, providing the ability to accelerate and produce a single product demonstration model swiftly.
LOCAL MANUFACTURING
The ADA Bendigo Factory is one of Australia's largest remaining dedicated uniform manufacturing facilities. Spanning over 5775 sqm and situated on 2.023 Hectares, the iconic building is one-of-its-kind, supplying high-grade bespoke uniforms and body armour to the Australian Defence Force (ADF). Today, the state-of-the-art Bendigo manufacturing facility has over 120 textile specialists ranging from CAD operators, machinists, and quality officers. Take a tour of the Bendigo facility by scanning the QR code or visit: www.ada.com.au/VirtualTour
ETHICAL ACCREDITATION
ADA was the first business accredited with Ethical Clothing Australia 21 years ago and remains accredited to this day. ADA's commitment to creating actionable change began with the accreditation with ECA protecting and advocating for the rights of garments workers. ECA's audit covers workers in design, pattern making, cut, make, trim, value-adding, dispatch, and outworkers throughout the supply chain for all locally made garments produced at ADA's Bendigo manufacturing facility.
CUSTOMISED ONLINE STORES
ADA's IT teams allows the group to create customised online stores to manage uniform demands for our clients. The end-to-end e-commerce portals cover fit, order and dispatch of garments to simplify distributing the most complex uniform wardrobes.
DATA SECURITY
ISO27001 certification will make ADA the first clothing manufacturing company in Australia to be awarded the highest security standards for information security management. ISO27001 will identify requirements for a comprehensive Information Security Management System (ISMS) and define how we as an organisation should secure information and manage our technology within ADA.
WAREHOUSING AND LOGISTICS
ADA's total asset management solution also provides warehousing and distribution as an optional service to managing uniforms. The warehouse picks, packs and dispatched orders within 48 hours of receipt. Real-time access to live order data enables company procurement managers to monitor, control spend and extract data to compare against budgets at any time. ADA can also tailor reports to customer requirements, as needed.
LEGEAR COTS SOLUTIONS
LEGEAR is a division of ADA specialised in the rapid acquisition and supply of commercial off-the-shelf specialist tactical equipment and apparel solutions to a wide range of state, the federal government, and private organisations. Housing over 70 leading global brands, LEGEAR also has an online presence at legear.com.au and a retail store presence in Melbourne, Canberra and Auckland to support our clientele.
Comments
LEAVE YOUR COMMENT